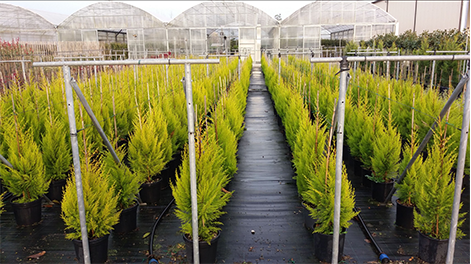 VivaiPiante Bal deals in container gardening. It is a modern and innovative growing technique created in the United States that has brought important changes in the various production phases. VivaiPiante Bal grows plants in containers to be able to produce various types of plants without being restrained by field gardening timelines, which are due to the variations of climate conditions. Container gardening allows to place on the market plants that are easy to handle without compromising the ability to take roots and the high quality of the product.
Thanks to a wide surface assigned to container gardening, VivaiPiante Bal is able to guarantee each customer that any kind of plant will always be available in any time of the year. The container gardening method is a technique that has allowed to focus the attention on customers' needs to always offer a high-level service finalised to meet any requirement.
If you have a garden in Pistoia and you want to embellish it with any kind of plant species, you can contact VivaiPiante Bal, a business that offers its clients innovative container gardening systems in Pistoia to give each client the opportunity to find plants of any species even when off-season.